Part of a series of posts about great film, web, or design artists and their work abuzz online and in-person.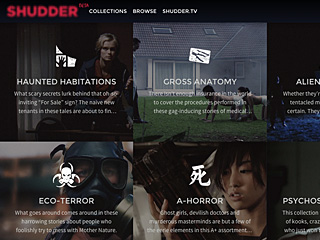 Always a fan of film websites that rock the boat. Shudder is one: a paid, online video platform that focuses collections of films into horror-specific genres, like "alien intruders," "romantic bloodsuckers," and "zombie jamboree."
The site itself is actually a spin-off of Dramafever, a Korean-based site that focuses on Korean dramas and Latin American telenovelas — just with a little less creative copywriting involved.

The True Detective season 2 opening credits are pretty impressive visuals, crafted by Patrick Clair and the folks at Elastic. KPCC's John Horn recently interviewed Clair for the radio program "The Frame," which cites aerial photographer David Maisel as a key influence for some of the intro. Wired Magazine's write-up also cites photographer Jake Sargeant.

Careful when you claim "first." Jameson's ad agency, 360i, got some press for a Facebook and Instagram "first" video ad that gives off a 3D look. But, as one astute commenter noted, they weren't "first." There's already a whole Reddit for these things, which are coined split-depth GIFs. Here's one that's more well crafted for example made by a fan, ScottInLNK: