Part of a series of posts about great film, web, or design artists and their work abuzz online and in-person.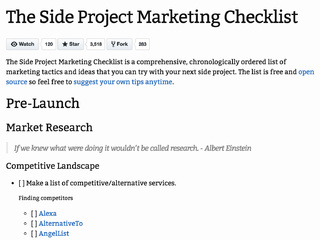 Side projects often succeed when treated like real work. When you're not doing it all the time, Side Project Checklist is a handy site that has things like a marketing checklist, perfect for covering the basics.
They also have some other lists like e-mail marketing tools to remind you that you've got options. The author encourages contributions via Github, which is an interesting approach to crowdsourcing line items for lists.

Cartoon Brew's article, "A Beginner's Guide To Copyright Law For Artists," gives a nice breakdown the U.S. Copyright Office and when to lawyer up when it's not public domain, fair use, and other cases where borrowing flies.

Shopify's Polaris is their design system, documenting online their rules. On their color page, there's some nice cases on how they focus attention. Overall, systems enable consistency for a company's sites. For other web style guides, check out styleguides.io.