Part of a series of posts about great film, web, or design artists and their work abuzz online and in-person.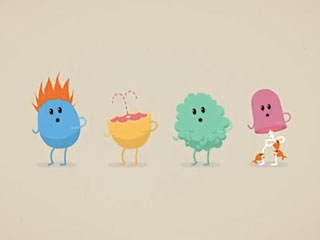 "Dumb Ways to Die" by Melbourne Metro
This PSA about preventing train accidents — a real problem in Victoria, Australia — won seven accolades at this year's Webby Awards. According to

Ottawa Citizen,

the video seen by 45 million has "also apparently reduced the number of 'near miss' accidents." Campaign from advertising agency McCann Melbourne. Video developed by Pat Baron, animated by Julian Frost, and produced by Cinnamon Darvall.
"Steven Soderbergh's State of Cinema" via Vulture
The New York Magazine blog posted the full speech from the San Francisco International Film Festival. One commenter about just how sad the state really is: "You've got people who don't know movies, who don't watch movies for pleasure deciding what movie you're going to be allowed to make." Thompson on Hollywood (Indiewire) adds more commentary. Update: The San Francisco Film Society added an official video of the 40-minute talk.
"F. Scott Fitzgerald's Ledger (1919–1938)" via University of South Carolina
Full text that's keyword-searchable, including his typos, earnings, and an "Outline Chart of [M]y Life."
"All That Online Video Is Great, Except When It's Really Not" by P.J. Bednarski (Mediapost)
When there's breaking news or evocative rants, so many video players (and their parent sites) sit you through ads — many of which are repetitive, irrelevant, and/or inappropriate.
"Fans, Friends & Followers: Building an Audience and a Creative Career in the Digital Age" by Scott Kirsner
The journalist is giving away his 2009 book as a free PDF.