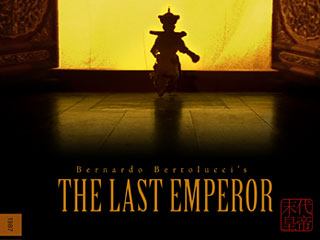 The Criterion Collection recently announced the re-distribution of Bernardo Bertolucci's Oscar-sweeping 1987 film, "The Last Emperor."
On the company's blog, which dates back to early 2006 with quote enriched details on the creative and calculated choices for the collection, the multi-author posts often address specific customer feedback. In one case, about the aspect ratio of "The Last Emperor," and how the new release has a new number. Even though it was originally seen one way, the production did not intend for the normal Academy ratio of 2.35:1, but instead planned for the ratio of 2:1. The slim but dense 70mm negative was the intended release format, which we also know in one form as IMAX.
Now, here was an opportunity to correct the film, to do justice to the injustice a whole 15% of the projected image. Criterion's president, Peter Becker, boldly affirms in a recent post that "while some viewers may prefer the wider framing, the filmmakers must have the final say. This is not a case of our losing track of our mission, but rather one of being true to it."
For a company known for his high-quality of film licensing, digital transfer, extra supplements and box packaging (as well as appropriately premium prices), it's refreshing to have a valued line on the market. It's like buying the hard cover edition when the soft would suffice. Or like designing the experience with the author in mind or in counsel: relevant rather than removed. The effort, especially with an art direction strategy of starting from scratch, serves the audience who cares about the art of the film.
For an in-depth comparison of this DVD release compared to others, from DVD menu, data bitrate and beyond, see a review for "The Last Emperor" on DVDBeaver.com.
Criterion's 4-disc set for "Emperor" came out in February 2008. The company is re-releasing about 3 titles per month.