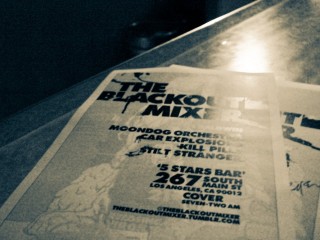 What is the BlackOut Mixer and how is it unique?
John Conway The BlackOut Mixer is a variety show put on by LA-based filmmakers, musicians, and artists — for filmmakers, musicians, and artists. The mixer is not a typical "mixer." We've tried to make the event entertaining in all aspects.
We include live music from local LA artists, three blocks of short films from all over the world, and stand-up comedy. As a filmmaker, I've been to a grip of networking parties and mixers, and they all seem to have a similar mentality, "Come out to [bar or club name goes here] and network with industry professionals," but once you get there it's a bunch of people standing around, listening to some DJ spin a dubstep version of Foster The People's "Pumped Up Kicks."
The BlackOut Mixer is a cheap way to come out and meet local artists, while enjoying a great show. It's in a "late night" format, where as our host Mitchel Baldwin, has an opening monologue, and also does a Q&A with our artists after their band plays or their film screens.
What inspires you to host this event for filmmakers, musicians, artists and the general public?
JC I've been out here in LA for roughly 5 years and it took me about three years to find a music scene I dug. After meeting our music promoter Omar, it was obvious that the musical talent here in LA is outrageous. I'm also a sucker for short films. I think they're a great way to show an up and coming filmmakers talents. Most of these short films will never get seen, or played in front of an audience for that matter, and that sucks. Basically, I look at the friends and colleagues around me and think, "Shit, they all have talent, people need to see what they are doing!"
How has the event evolved through the first three? Where do you hope to take it in the next year?
JC We'll we've actually had 4 mixers total. We had a 2.5, which was introduced as a 'buffer' until we figured out the new location, and what we could achieve there. It's confusing, but 2.5 was our rebirth. The first mixer was rough, as we had maybe 15-20 people there, most of them friends… But, our online presence grew, as did the team, and we're able to reach out to fans that had no clue what the mixer was. By Episode 2.5, we had tripled the amount of attendees. Every show has it's bumps, but that's all part of the fun. We're hoping that next year the show can steer itself. All three of us have full time jobs, and have a hard time preparing, but with the help of our friends, we seem to make it work. Next year we'd love to do an all-day festival in LA, showcasing the alum and other artists of course.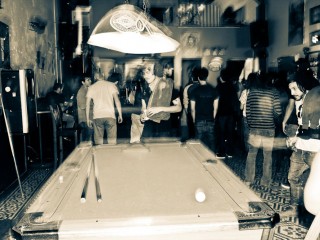 Walk me through the process. You found R Bar and then Five Star Bar receptive to hosting the event… You have calls for content weeks in advance… You promote via Tumblr, Facebook, and Twitter, most notibly with getting the attention of other Twitter accounts in the media and industry… You've got help with checking IDs and collecting some cover fees at the door… What's the biggest challenge?
JC We got really lucky starting the mixer out here in LA. I attempted to do a public access show out of Daytona Beach, similar to what we do now, but for TV, I didn't really have the knowledge to follow through, so it kinda fizzled out. We got asked to produce an event at the R BAR in Koreatown one Sunday a month, we did, it went over well, but after the second mixer we needed a bigger space, so we took the idea to the 5 Stars Bar. They seem to love the event, and have giving us the rest of the year to do the show.
As far as finding the talent, we lurk on Vimeo and YouTube for short films. I've been lucky to have my short film in a couple of festivals this year, so I been able to get some filmmakers on board after viewing their shorts. Omar gets us our musicians, and he's great a bringing in an array of different sounds. Mitch, our host, bring the comedians, and basically guides the audience through the show.
The most challenging part of the mixer has to be the mixer itself. We don't make a dime from the mixer. So doing all of this is for the love of whatever it is we're doing. All the money collected at the door goes to the bands and takes care of what we dish out.
What's one of your favorite moments around the event, whether it's a special guest or audience reaction?
JC A buddy of mine over at Cinema Slaughter had promoted his horror film fest, as part of our 'Violent Filmmaking Series', where we screen our horror shorts. I had spoke to him a couple times before the event and asked him not to tell me what he had planned to promote his event, so I could be surprised. Two days before Episode 2.5, I got a little worried, and if you knew him, you would be. So I asked. It involved this girl naked, covered in blood, and touching herself, as she read a poem inspired by blood. Now the plan with the mixer was that it was an open forum — to an extent. I'm cool with anything, but because we wanted to stay at the 5 Stars Bar, and not have to look for another location, that stunt had to be trimmed down. So we came to a compromise. The girl still went up there, poured blood on herself while reading her ode to blood, but she was fully clothed, and she wasn't touching herself. Haha, it was entertaining to say the least.
Any lessons learned putting this mixer together?
JC A couple quick things I've learned producing this mixer is to, make sure you don't do this alone, it'll end up killing you, always ask for help. Don't give up, interact with your audience, ask them what works and doesn't, it's the only way to get creative feedback. And lastly, make sure your happy doing it, cus if you're not, then why bother…
Where can people follow, attend, and contribute to your events?
JC Check out theblackoutmixer.tumblr.com for updates. And send all your links, either your stand-up, short films, or band pages to theblackoutmixer@gmail.com.