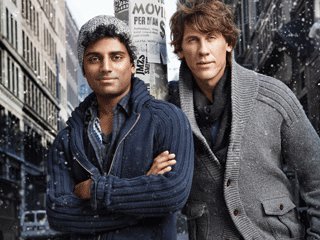 Coming out of a crowdsourcing snafu with a failed new logo, GAP emerges today with a sharp photo and video campaign. While snapping stills in New York of notable actors, Foursquare founders, and style bloggers, the talent spends their down time talking about charitable giving, answering "if you could give anything in the world, what would it be?"
With the emergence of low-cost and high-quality DSLRs, for better or worse, it's increasingly common for photographers to shoot video and filmmakers to shoot stills. Sometimes companies hire two different teams to shoot the same material; other times, it's a two-for-one gig. In this case, the video takes a back seat to the stills, although the behind-the-scenes themed spot is now running on television.
Media convergence is nothing new. The merger of print, broadcast, web, mobile and even radio for a team's single message just requires a lot of players and their distributions platforms shooting for the same goal.
GAP's multi-faceted campaign does just that, plus some specialized context where appropriate. For example, the online video gives something itself: a code word (Viral30) for a 30% in-store discount plus a Facebook-linked way to connect "likes" to $1 of corporate giving to a group of charities. Pretty smart move, GAP.
(via Mashable)