Part of a series of posts about great film, web, or design artists and their work abuzz online and in-person.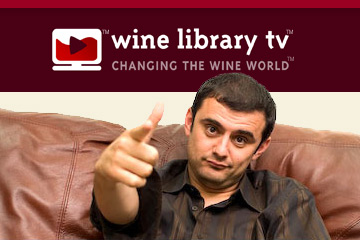 Thousands of people tune in to every episode of Wine Library TV, a fast-paced web show hosted by Gary Vaynerchuk. To date, his 551 shows since February 2006 sound off on wine picks all week long, which are often shot in one quick sitting.
In episode #550 of the "Internet's most passionate show about wine," embedded below thanks to Revver.com, Gary shares his unique perspective on Chianti Classico and Parmigiano Reggiano:
From practical advice like decanting, to straight-forward education about grapes, Gary's enthusiasm for wine extends past his passion for his fans to advice that anyone doing online video can swallow. Take this episode from August 2008 where Gary discussed "Content and Community: How to build a good show on the Internet."
"It's not the glitz and the glamour. … It's not about the widgets. It's about the two C's: content and community. Pump out great shit as hard as you can, five days a week, even seven. … You need to give them what they want, not what you want to give. … It's about giving from your heart, with content that you understand. … Never ever take a viewer for granted."
Get a full-bodied sense of the guy from any of his latest video posts at his site or his tweets on Twitter.
Also, see a previous post which cited a quote from Gary about the importance of fostering community with online networks.