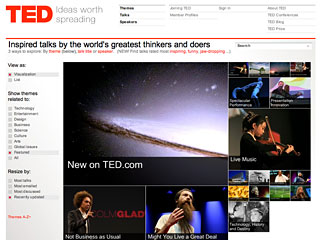 Since I first heard about it, I've been a fan: TED — Technology, Entertainment, and Design — is a conference about spreading ideas and so much more. Their annual event in Monterey, California is their founding epicenter, where in 18 minutes apiece, "a group of remarkable people … gather to exchange ideas of incalculable value." (Tickets are over $4,000 and only 1,000 people are invited; fortunately for us, most "TED Talks" can be viewed in five formats for free, sponsored by BMW.)
Today, day two of the 2008 TED conference included a new teaser for Pangea Day:
"What if…"
The teaser brings us back to 1989's Tiananmen Square in Beijing, where the PLA's advancing tanks met an unarmed civilian protestor. The video is called "What if…" and recreates the point-of-view of the tank driver. It intercuts the historical footage and ends with the message: "On May 10, 2008 see the world through someone else's eyes."
Coming Together with Film
Good Magazine calls it "a powerful collective action … when people around the world will come together to view films as a demonstration of global solidarity." The history and goal are elaborated in one of today's posts at the TEDBlog:
TED is also trying to do something to change the conversation. Actress Goldie Hawn is one of the many public figures around the world supporting Pangea Day, a project that was voiced as a "wish" by 2006 TED Prize winner [and filmmaker] Jehane Noujaim, when she wondered if it would be possible to create a "day when you have everyone coming together from around the world and sharing a communal experience of watching a film all together, all at the same time, from Times Square to Ramallah to the side of the Great Wall of China". That day is going to happen, on May 10, when four hours of programming — films, user-generated videos, speakers, music, hosted by CNN's Christiane Amanpour — will take place in several locations and broadcast by TV channels, shown on theatres, distributed over cell phones, streamed online, screened in village places and private homes all over the world. That's Pangea Day. Movies alone can't change the world: but the people who watch them can.
An earlier teaser, posted in September 2007, elegantly explains the call for entries, which can be sent in until February 15:
And back in February 2006, filmmaker Jehane Noujaim (Control Room) spoke at TED, and her talk is available online:
For more coverage of TED 2008, which goes until March 1, see TEDBlog, Wired Magazine, and Public Radio International.