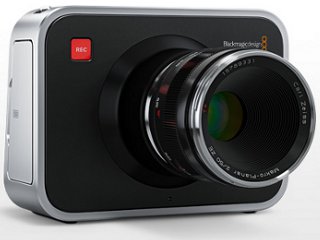 The marketplace for digital camera bodies for filmmaking is gaining some momentum. ARRI's ALEXA is "thriving," RED's Epic and Scarlet is "upgrading," and Canon is getting a run for its money from Sony and Nikon. Now, this last Monday at NAB, from the color grading company Blackmagic Design is a new 2.5k-resolution camera, starting at $3,000 and shipping in July.
To sweeten the deal, all of this is included in the pricetag: RAW / ProRes422 right out of the can (ala ALEXA), color timing software (ala RED), and a 13.5-stop / 12-bit image. The depth and range in color and exposure makes this camera look more like 16mm/35mm film, less like a DSLR.
EOSHD.com calls this news the "downfall of the big guys," especially given other improvements to the lower-end market like HD-SDI and Thunderbolt output. Comments at NoFilmSchool.com balks at first-generation hurdles: un-ergonomic design, an internal battery, and 1/4″ audio (although it's two jacks and live headset monitoring, unlike most other DSLRs). DP John Brawley, who shot engineering tests for BlackMagic, notes on his blog the process, most notably the benefits of no compression and how tests with ALEXA and RED compare.
(via Jeremy Troy via NoFilmSchool.com)