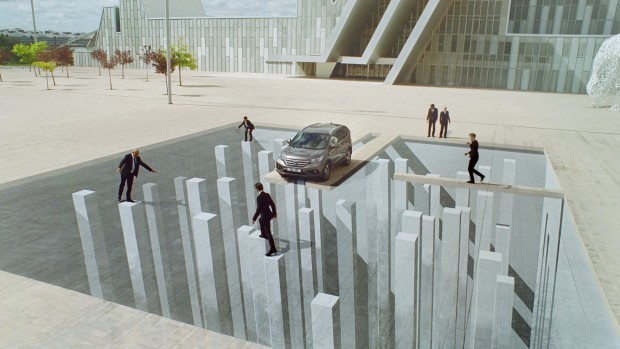 It's so rare to see surrealism in advertising, let alone broadcast spots for cars and made with practical visual effects. This Honda ad from 2013 does both, ringing true to its name, "An Impossible Made Possible." The spot only aired in Europe.
Agency: mcgarrybowen London
Client: Honda
Executive Creative Director: Paul Jordan
Executive Creative Director: Angus MacAdam
Copywriter: Richard Holmes
Art Director: Remco Graham
Planner: Max Kennedy
Agency Producer: Richard Firminger
Media Agency: Starcom
Production Company: Gorgeous
Director: Chris Palmer
Editor: Paul Watts
Postproduction: The Mill
Colorist: Seamus O'Kane
VFX: Tom Sparks
Audio Post: Parv Thind
Audio Post: Wave
(Uncredited in the trades, the music in the spot appears to be the main theme ["Carter Takes a Train"] from the 1971 movie "Get Carter," originally composed by Roy Budd and re-recorded by L'orchestra Cinematique.)
Equally impressive is their behind-the-scenes video, where the illusions are each revealed as in-camera effects.
The ad is reminiscent of one for the Audi A6 called "Illusions," which was made in 2004. Production company Amarillo Films and director Anthony Atanasio did the spot with agency BBH London and creative director Russell Ramsey. Learn more about the behind-the-scenes work in a case study by the VFX house, Framestore. The spot only aired in the United Kingdom.
(Hat tip for AdWeek pointing out this one in their review for the 2013 Honda spot.)
Other well-known surrealist ads (of which there are very few) include Volkswagen's Polo BlueMotion. Inspired by René Magritte and Salvador Dali, DDB Berlin was involved with the surreal ad, along with art directors Marian Grabmayer and Marcus Intek, with illustration by Kirill Chudinskiy. More on AdsOfTheWorld.com.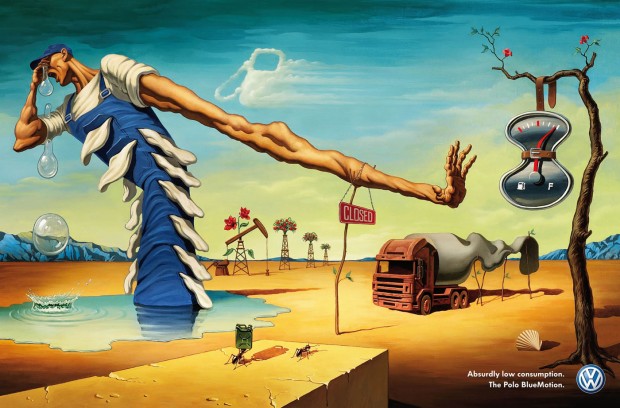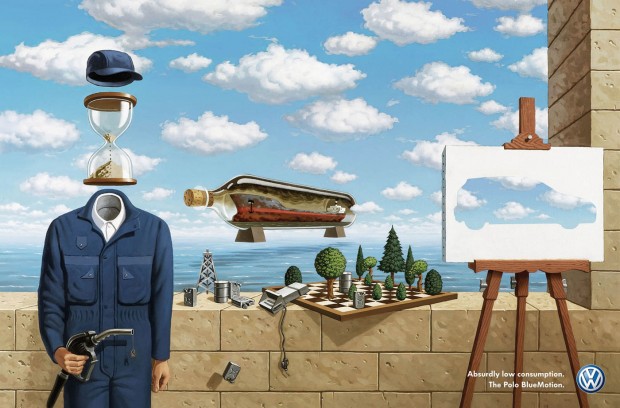 (Note that Volkswagen owns Audi. Perhaps they're fans of surrealism?)