"The Epic Split" is one of several stunt-based ads from Volvo Trucks, the first of which to include Jean-Claude Van Damme. Aside from this classic stunt for which he is known, Van Damme, 53, is there to plug the vehicle's highly precise steering feature, presumably when driving both forwards or backwards.
How did they do it? Shot in one take after three days of prep, this spot was shot in a 15 minute span of morning daylight at Ciudad Real, a vacant airfield in Spain.
Client: Volvo Trucks
Agency: Forsman Bodenfors
Production Company: Folke Film, Stockholm
Producer: Joi Persson
Stunt Coordinator: Peter Pedrero
Production Service Company: Story We Produce, Barcelona
Producers: Ana Laura Solis and Marc Bedia
Director: Andreas Nilsson
I was curious if they shot it backwards for the sake of ease. Despite the marketing material touting these trucks drove backwards, some comments on YouTube wondered about the same thing.
Here's a copy of playback in reverse intentionally without audio: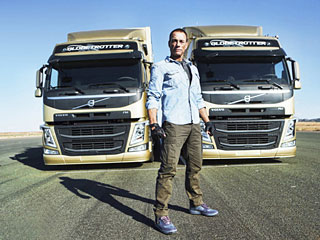 Today, one day after the online release in what appears to be an exclusive for them (versus bland repeats of the press release), the Wall Street Journal cleared this up, quoting Anders Vilhelmsson, public relations manager for the Volvo Trucks brand. "The stunt is real and is performed in just one take. … It's a daring stunt but we had full control. There was never any real danger involved." It goes on to say that the actor, known also as the "Muscles from Brussels," is actually not on the side mirrors but a small platform, plus a safety line to ensure he wouldn't be hurt.
The trucks go backward in the video because "we all know that going in reverse is a bit more difficult than going forward," Vilhelmsson said. "We felt that would be the ultimate test, to have the trucks go in reverse with someone standing on the side mirrors performing a side split. And we knew that if anyone would be able to do that, it would have to be Jean-Claude Van Damme."
Even with those precautions, well done.