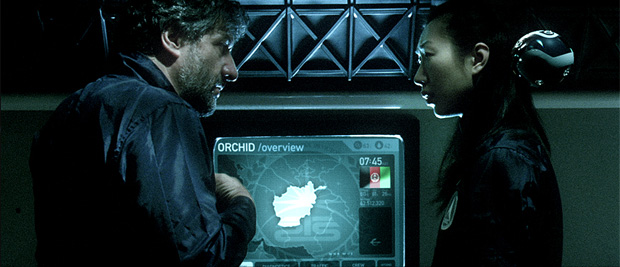 "Paradise Regained," a 15-minute thesis film written, produced and directed by Jaraad Virani, is about two strangers who must band together to discover why they were involuntarily sent into space. The short stars Michael De Nola, Jo Mei, and Norm Golden.
How did you come up with "Paradise Regained?"
Jaraad Virani Strangely, I never set out to make "Paradise Regained." It's something that just kind of happened by chance. I began prepping my senior thesis towards the end of my junior year at NYU film school, which at the time was a different project all together: an adaptation of Ambrose Bierce's seminal short story "An Occurrence at Owl Creek Bridge." It's fairly well known and has been filmed before, most successfully as the original Oscar-winning 1962 black and white short film. I fell in love with the story when I first read it in high school and it captivated my imagination so thoroughly that I couldn't fathom directing any other project while in school. I felt I had a particular vision for telling the story that would help it to feel fresh and exciting despite the fact that others had shot similar projects decades ago. I researched a ton, wrote draft upon draft, prepared a pitch, even created an animated storyboard sequence set to music to sell my vision, and shot VFX tests in the summer leading up to my senior year.
As classes began and I weighed my final decision, something that had been nagging me for a long time about the project finally became a painful and unavoidable truth: it wasn't original. In fact, another young filmmaker wrote and directed an adaptation of the same short story just a year or two prior with mixed results. Did I really want to be a "me-too" filmmaker? Although I held the utmost confidence in my particular interpretation of the story, I knew no matter what it would just be another adaptation covering familiar ground. One of the hardest decisions I ever had to make was to abandon the project.
Consequently I needed a new story to build my thesis around … fast. Daniel Robinson, a very talented screenwriter and colleague, had been putting together a story for a really compelling sci-fi piece about a man and woman mysteriously marooned in space. It was a dark and very intense story, one that was far too rich for a 10 to 15 minute short film, but I enjoyed the premise and saw a lot of potential in the set up for a short film, not to mention how much I relished the technical and dramatic challenges of the sci-fi genre. Best of all: it was original. So I switched gears, asked Daniel if I could create a bit of backstory that would dovetail into his story and that would be more appropriate for the short film format, and the end result was "Paradise Regained."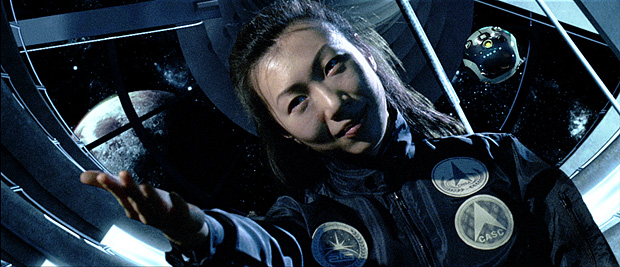 What was one of the greatest joys of directing?
JV By far the greatest joy was collaborating with the actors. No other aspect of directing is quite as rewarding, challenging, daunting, and inspiring as bringing characters to life. I was very fortunate to find two sensational actors — Michael DeNola and Jo Mei — who committed very strongly to the project despite it's technical challenges and, as far as I'm concerned, more than rose to the occasion.
What was a highlight of production?
JV For a variety of reasons we fell behind in our pre-production to the point where, the night before our first day of shooting, our sets were no where near ready. Panicked, grief-stricken, and running on fumes — staying awake for 72 hours straight while overseeing construction — I called my AD very early in the morning on the day we were supposed to start and explained the situation to him. We agreed no shooting could happen that day.
I was so consumed by fear that the entire crew would mutiny and leave the project as a result of this unfortunate circumstance. But, instead, everyone showed up at their designated call times and banded together to help finish building the sets to the best of our ability. Cast and crew alike put aside their respective roles and became grips, painters, assistant art directors, you name it, in a wonderful display of unity and sacrifice. Even though we lost a day of shooting, we more than made up for it and even ended up wrapping a little early, all because of my wonderful colleagues; I could not be more proud of, or more indebted to them.
Jump ahead four years. You've just completed the last leg of the
film. What step are you most proud of? What step did you underestimate?
JV I'm most proud of just finishing the damn thing. Post-production was such a time-, money-, and energy-intensive process; far moreso than I had anticipated during production.
While it's true it did take 4 years all together to conceive of, pre-produce, produce, and post "Paradise Regained," the timeline is considerably misleading. There was a lot of dead time during post where I had to wait for the VFX artist's schedules to open up so they could do pro-bono and/or paid work, or when I had to pause work on the film to raise more money to keep it going.
Though it was a short film, the entire filmmaking process truly was more of a marathon than a sprint. It took such a tremendous amount of time and effort to get to the end and I'd be lying if I didn't admit that at times things looked bleak if not downright impossible. But perseverance is an essential skill in filmmaking — if not life — and it's what saw all of us through to the final product.
You also have experience as a graphic designer. I've already seen the poster. Any thoughts for self-marketing it? What design objects do you have in mind, be it DVD packaging or otherwise?
JV My background in graphic design proved to be an incredible boon to the production of "Paradise Regained" in a myriad of ways. Even in pre-production I put my skills to use by creating animatics to help convey my vision for the project to teachers, classmates, donors, and potential cast and crew. Additionally I leveraged my experience with print layout and design to create a compelling fundraising prospectus that captured the spirit of the film and helped elevate banalities such as fundraising letters and cast-and-crew breakdowns into a slick, well-produced, and story-integrated package.
During production I helped design a lot of the logos used on the character's costumes and on a variety of collateral used in the production design, and in post my skills came in handy when designing the GUIs [graphical user interfaces] for the computer screens in the film as well as performing some light visual effect work such as matte paintings, rotoscoping, etc…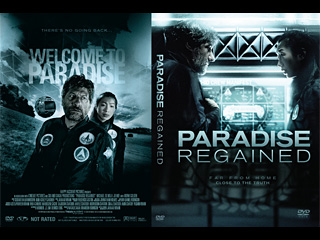 Lastly I also was able to generate key art, DVD packaging, such as posters and lobby cards to help market the film. And if time and budget allow I hope to be able to delve further into digital and printed collateral to help entice people to check out the film.
What are your thoughts on 35mm film being displayed online, be it
an iPhone, YouTube/Vimeo, or hi-def VOD?
JV I feel that even though we have access to more and more content in our personal devices, portable or otherwise, nothing beats watching a movie the way its meant to be seen: on a huge screen in the company of friends and strangers. It's tough to balance accessibility of content via online and on demand distribution methods with the proper presentation of films, but unfortunately the two go hand-in-hand with each other today. The key I think is to make sure to create a project worth that big-screen, darkened-theater presentation that compels people to put down the iPhone or the laptop and go have a true cinematic experience.
What types of projects would you like to do next?
JV Considering how intense the post-production on this project was due to the CG characters and environments, I'm looking forward to doing a very short and simple project next that's completely character driven, has no special effects in it whatsoever, and is something I could ideally shoot and edit and enjoy the fruits of in just a couple weeks' time. It'll be a wonderful change of pace to not have to wait years before enjoying the fruits of my labor so I look forward to working on something that can give me more immediate satisfaction as an artist.
Any other tips to share?
JV I'm a huge proponent of making your movie in pre-production, but what I would encourage people to remember is to not just visualize and plan the production of your film before you lens, but also make sure to prepare for your post-production as well. I ran into so many excruciating technical problems in post, many of which could have been avoided had I known to research more thoroughly and plan my post-workflow far more specifically. If you can spare yourself the hell of codecs, pull-down, color space, frame rates, resolution, YUV vs. RGB, pixel aspect ratios, blah blah blah, please do it. All the complexities of digital post production can become a video – and audio-engineering labyrinth that stymies your creativity and delays you from reaching your main goal: finishing the film. It's important to remember that your post producer, supervisors, editors, composers, color graders, sound designers, mixers, et al, are all an integral part of the whole filmmaking process and the sooner you can bring them into the fold the better off your final product will be.
To know about the Los Angeles premiere and the online premiere for "Paradise Regained," contact Jaraad Virani or stay tuned to the FWD:labs mailing list and Twitter.