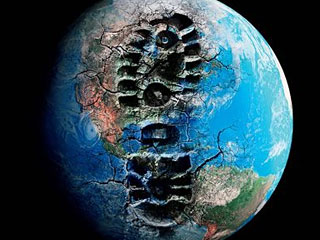 It's only playing at four movie theaters right now, so you might need to take your bus, subway or bicycle a little further than usual. Leonardo DiCaprio's art-house film The 11th Hour, which premiered at the 2007 Cannes Film Festival in May, is causing quite the storm.
Passion-centric
On the back page of today's Los Angeles Times' Calendar section, staff writer Rose Apodaca focused on how the film's collective nature parallels the need for "a collective shift of individual determination to save the planet." As is often the case with passion-centric projects, many of the filmmakers donated their time: Jean-Pascal Beintus composed the music and Andrew Roland's camera crew shot the documentary for free. Leonardo DiCaprio, who co-wrote with directing sisters Nadia Conners and Leila Conners Petersen, was determined to get private financing in order to be sure to get his hands dirty on every subject:
"We wanted to let leaders on the forefront of these issues speak openly and freely, without having to defend something that's actually happening, something they've spent their lives' work studying."
DiCaprio, the Blood Diamond-starring, Prius-driving and Tree Media Group-partner, is no stranger to social relevance. See the cover story in Vanity Fair magazine to get up to speed on his actions.
Coverage
The New York Times: "It may not change your life, but it may inspire you to recycle that old slogan-button your folks pinned on their dashikis back in the day: If you're not part of the solution, you're part of the problem."
Variety: "11th Hour presents the viewer with reams of depressing data, loads of hand-wringing about the woeful state of humanity and, finally, some altogether fascinating ideas about how to go about solving the climate crisis."
81% fresh on Rotten Tomatoes' critic aggregate, as of 11am on August 18, 2007
Non-New Yorkers and Angelenos: the wider release is August 24, 2007.
Convergence
Grassroots Reaction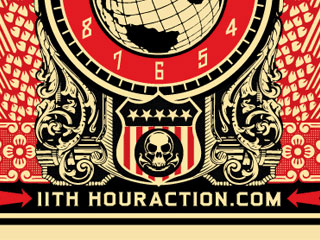 Even with echoes of An Inconvenient Truth — where the message is susceptible to fatigue from the globally-apathetic moviewatcher on a Superbad weekend — the repetition is part of the message. "This case needs to be stated again and again until humans are mobilized to action, for nothing else will be sufficient to ensure our collective survival." Environment-savvy entrepreneurial consultant Jonathan Cloud continues his thorough, informed and passionate analysis of the film and the problem at large.
Promotional print from Obey Giant — street artist Shepard Fairey — who notes, "Skip the next Rob Sneider movie and to see the 11th Hour and you'll be both avoiding pollution and educating yourself about it. If you won't do it for yourself, do it for MY kid! Thanks." (Fans and critics responded, as it sold out quickly.)
"The screensaver should be a t-shirt," notes the Ecorazzi blog's post by Michael d'Estries, co-founder and editor of "the latest in green gossip."