Thursday, February 27th, 2020
7:00 pm + 3 hours
Kleverdog Coworking
418 Bamboo Ln.
Chinatown
Los Angeles, CAUnited States
Sorry, RSVP for this event is now closed. Look out for upcoming events or subscribe to our events list below.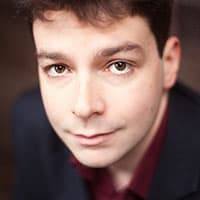 FWD:labs presents "Fusing Diegetic Music and Underscore: An Underused Technique for Cinematic Power and Continuity," a talk by conductor, orchestrator, and composer, Geoffrey Pope.

About the Speaker

Geoffrey Pope is an award-winning conductor, orchestrator, and composer. Balancing dual careers in concert music and scoring for film and other media, he believes that creativity and synergy come from lifelong curiosity and a commitment to working well with others.

Pope received his undergraduate degree in composition from USC, masters degrees in composition and conducting from the Eastman School of Music, and a doctorate in conducting from UCLA. This combination and level of formal training is unusual in today's commercial music industry, and Pope applies these skills to his work in the studio and concert hall with efficiency, sensitivity, and receptivity.

He has scored numerous shorts, commercials, logo cues, and PSAs appearing on broadcast television and online, as well as the feature film "Palo Alto, CA" (2007) starring Ben Savage and Tom Arnold. He has conducted sessions for independent short and feature films in Los Angeles and Rochester, New York, and provided music preparation and mixing services. He is employed as an orchestrator for several upcoming Netflix releases.

In addition to his creative endeavors, he works as a forensic musicologist in music copyright infringement matters, as an associate with Judith Finell MusicServices, whose clients have included Sony, Disney, Bob Dylan, Lady Gaga, and Warner Bros. He is an advocate of composers whose work is pushed to resemble a temp track too closely, working to reduce the risk of copyright infringement while honoring a production?s musical requirements.

For more information, please visit geoffreypopemusic.com.
FWD:labs Members in Attendance
5 (approx.)