Tuesday, July 2nd, 2019
7:00 pm + 3 hours
Kleverdog Coworking
418 Bamboo Ln.
Chinatown
Los Angeles, CAUnited States
Sorry, RSVP for this event is now closed. Look out for upcoming events or subscribe to our events list below.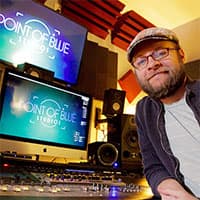 FWD:labs presents "Building Stories with Sound," a talk by Alex Reeves of Point of Blue Studios.

About the Speaker

Alex is an award-winning director, producer, and sound designer based in Los Angeles. Born in New York City and raised in the suburbs of Chicago, Alex moved to Los Angeles in 2006 where he began a career as a television editor working on such modern classics as Supernanny, The Real Housewives of New York, and BBQ Pitmasters. In 2011, Alex opened Point of Blue Studios, a production company based in North Hollywood where he has since produced and directed multiple award-winning documentaries, short films, music videos, and commercials. He was the resident recording engineer for RocketJump Studios? podcast network from 2013-2015, and his sound design work can be heard on Comedy Central, Hulu, and Disney XD. Alex is the other half of Hollywood power couple "Nicolex" and lives with his talented wife (Nicole Wyland) and two cats (Milo and Winnie) in West Hollywood.