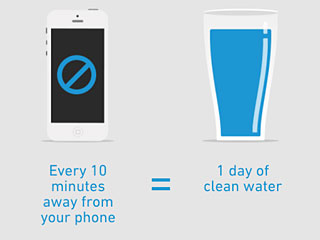 Today marks the last day of the seventh annual UNICEF Tap Project, a campaign that offers this simple challenge: go ten minutes without using your cell phone, and UNICEF's corporate partner Giorgio Armani Fragrances will provide one day of clean water for a child in need.
Simply load uniceftapproject.org on your mobile phone, pretend your phone is diseased, and Armani will donate $.0025 for every minute of inactivity towards providing clean drinking water to 768 million people worldwide — making the process so easy that, yes, you probably could and even should do it it in your sleep.
Digital Backlash
The Tap Project is a timely idea propelled by a growing backlash against social media and digital addiction overall. In one fell swoop, the Tap project juxtaposes the first-world boredom of #selfies and #cat pics with the fact that hundreds of millions of people worldwide lack access to something as basic as clean drinking water and sanitation. It's a refreshing perspective, and provides a sort of reverse call to arms in our era of overconsumption: put down your phones and do something to help.
https://www.youtube.com/watch?v=Wetbh84MGOc
"We are obsessed with cell phones," the project's informational video begins, featuring animated diners sitting in a restaurant dutifully glued to their mobile devices. "Have you been out to dinner lately? We think we can't live without our phones. So why don't we use them to provide something people actually can't live without? Clean water."
To put this dichotomy into perspective, not only does the Tap Project provide real-time statistics on how many years of clean water have been raised by the effort on a current day (4.2 years at the time of publication), and the current record for inactivity (17k minutes at the time of publication), but perhaps more saliently, what users aren't doing when they abstain from using their phones:
People have helped kids today instead of:

Viewing 9 Million #Selfies
Uploading 3692 million Facebook photos.
Viewing 911K #Cat Photos.
Viewing 11 million #nofilter photos.
Don't Just Do Something: Sit There
No one can argue with just how insidious cell phones and social media have become in society, of having so much benevolent power at one's fingertips yet wielding it to post pictures of our chicken caesar salad; and where the Tap Project really shines is in its cynical — albeit probably unintentional — acknowledgment that the public would prefer to literally not lift a finger in order to make a difference.
UNICEF makes the giving process about as painless and non-participatory as it gets — and because of that, has been extremely successful in drumming up awareness and, more to the point, clean water. Their press release from March 25th stated the following stats:
So far, these Tap Project donations have been used to promote hygiene, provide well rehabilitation and emergency water and sanitation — most notably in Syria, the Philippines, and the Central African Republic.
Engagement Disrupted
In this gilded age of "disruption," the Tap Project provides a definition that is undoubtedly too literal for most digital marketers or campaign managers — and even physically uncomfortable for all those fidgety end-users addicted to their phones. And this is why it works so well. It asks us to be truthful with ourselves, to solemnly acknowledge that what we do on social media, gaming, fantasy leagues, should all be reminders of how many people are suffering worldwide, and should likewise provide the necessary guilt veneered leverage to contribute to a very worthy campaign.
The Tap Project encourages people to pause, reflect, and unplug. Not only to pay attention to events going around the world, but to be mindful of what's going on right in front of them — for instance, the next time they are poured water at the dinner table.
The UNICEF Tap Project end today, March 31st.