Friday, February 1st, 2019
7:00 pm + 3 hours
Kleverdog Coworking
418 Bamboo Ln.
Chinatown
Los Angeles, CAUnited States
Sorry, RSVP for this event is now closed. Look out for upcoming events or subscribe to our events list below.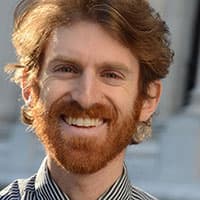 FWD:labs Salon presents a talk entitled "The Art of Conversation" by Andrew Linderman.

About the Speaker

Andrew Linderman is a writer, storyteller, and business coach based in New York City. He teaches storytelling at General Assembly and New York University, and is the founder of The Story Source, a consultancy that helps artists, business people and entrepreneurs tell compelling stories. His former clients include Google, American Express, Penguin Random House Publishing, and dozens of small businesses and startups around the world.

Prior to founding The Story Source, Andrew worked as a story coach with The Moth, a MacArthur award-winning non-profit dedicated to the craft of storytelling, and trained as an actor and improviser at the Upright Citizens Brigade and the Atlantic Theater Company in New York City.

Andrew is a graduate of the University of California, Berkeley and has worked as a city planner, a radio DJ and an economist. He has lots of stories to tell, but promises never to tell them in the third person.