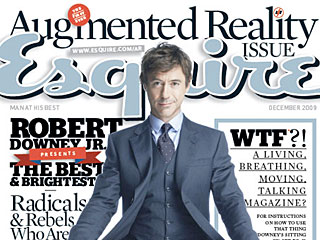 Last year, I was pretty put off by Esquire's 75th anniversary, "e-ink" cover that they slapped on their October 2008 issue. It was obviously just an attempt at pretending that print media isn't dying, but simply, adapting. A very impractical attempt at that; The battery that powered the e-ink implement burnt out quicker than they had expected, and they must have been pretty expensive to produce, because exactly NOBODY actually owns a copy of the e-ink version of the cover. It wasn't sent out to subscribers. I didn't even see it on any newsstands when it was supposed to be on display. All I saw was a demo video of it on Esquire's website.
This month, Esquire announced their upcoming "augmented reality" issue. On some of the pages, you will find garish, barcode-looking elements that, when shown to a webcam-enabled application (yeah, you have to actual download and install stand-alone software) available on the Esquire website, will display on your computer screen a kind of "living" overlay of that page, with full-motion video. If that sounds gimmicky, it's because it is. If it sounds glitchy, it's because it very much is. Check out the demo at http://www.esquire.com/ar. Even the official demonstration video shows some serious latency that will frustrate you before you even get to try it out yourself.
I actually still have faith in Esquire's original content. I am a subscriber. But what does it say to the casual reader when you've been reduced to taking whichever emerging technology that is currently the most buzzworthy, then completely and totally misusing it in order to sell magazines? What more idiotic ideas do Esquire readers have to suffer through? The "240hz Issue" maybe? Or, the "Cloud Computing Issue," wherein a subscriber might be required to enter a new URL in their browser to read each print page? Those jokes are about as useless and cheeky as this "augmented reality" issue, and I am continually putting that name in quotes because I fail to see where exactly "reality" makes it's debut? This is not "augmented reality," this is Augmented Me-sitting-at-my-desk-showing-my-webcam-a-piece-of-paper-like-a-moron.
Gimmicks like this are the print-equivelent to television sitcom "stunt-casting". Esquire's antics can be reduced down to simply one word: novel. And I use the word "novel" here as a negative. "Novel," like, completely superfluous and worthy of no preservation. "Novel," as in the total opposite of "important."
(Originally published on The Post-Modern Yuppie.)
— Thomas Smith
Member, FWD:labs