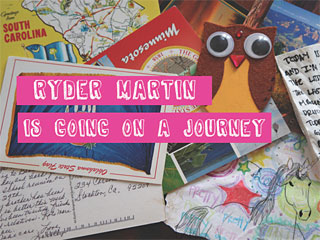 Through the course of history, artists have often survived thanks to wealthy patrons who sponsored them. Today, finding someone with money to burn on your creative exploration can be quite hard, especially if that creative outburst is a film ($$). But why does the support have to come from one person? What if all your friends, family and fans could all chip in a tiny bit to make your dream explosion time happen? What if it was actually fun for them to do so and they didn't just feel like you were begging? Kickstarter makes this possible.
Kickstarter is a site that allows artists to raise money for creative projects in a safe and fun environment for investors (using Amazon Marketplace). The site can be used to benefit film, art, music, design, fashion, food, journalism, games, and "other projects that spring from the imagination" to quote Kickstarter. The best part is that it is 100% patronage, not lending or investment and as a result the artists keep all the rights and ownership to content that they create. When you create a project on Kickstarter you decide what amounts people have the option to pledge at and what unique and fun rewards they will receive for doing so. Sometimes a reward is a handmade postcard, a special thanks in credits of a film or book, a food reward, or sometimes in the case of some of the photobook projects it is the inclusion of a photo that you have taken as part of the collection and a copy of the resulting book.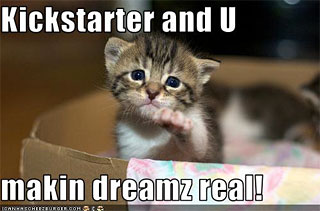 I discovered the fun of the Kickstarter community when a friend of mine was trying to get funding for her film. I often give money to street musicians and feeling like this was the online version but better (as she was my friend) I agreed to give her $25. But that wasn't the end of my Kickstarter experience. I spent the next half hour backing interesting projects that strangers were doing as I trolled around and fell in love with the site.
The projects were really inspiring and different and I felt great knowing that I was direclty making it possible for a bunch of creative people to make things. I didn't always give a lot, sometimes a dollar or five dollars, other times I gave thirty or fifty. I supported a girl who is making a poem and print book in an MFA program in Minnesota, an undergraduate band making an EP in LA, a nation wide community sketchbook project, a couple of short films, a feature film, a former Google Map Street View imagery producer who is image mapping the Grand Canyon, the list goes on and on. I discovered that Kickstarter is a great place to raise funds but it is also a great place to become part of a community and make contact with people all over who are making projects. I met a really cool cinematographer who was raising money for VFX for an awesome sci-fi film he shot. It was very cool to have direct access to this brave individual putting himself out there. I continue to back a lot of projects on Kickstarter and now I have decided to launch my own there as well.
The Highs and Lows of Ryder Martin (working title) is an indie feature film that is going to shoot in July. We've raised funds, taken out loans and sold a car, but we still need a little more $$ so we are turning to my love Kickstarter.com. I, Dagmar Weaver-Madsen, am the cinematographer on the project and fellow UCLA MFA classmates are involved: Hazel Meeks is directing and Alex DeMille is editing. The script was written by UCLA Theater alumna Lauren Oppelt. The film is a love story with guts, hitch-hiking and rock-n-roll.
"In an endless stream of parties, hook-ups, and drinking; postcards bring together two dreamers and teach them to stop being too cool to care."
If you are interested in Kickstarter.com for a project of yours jump on over to our site and see how the whole thing works in action. Who knows? You might find yourself with an extra $5 in your pocket and a need to help out a fellow filmmaker — you might also just want to get some of our sweet rewards!
Thank you and please tweet, blog or wallpost about us — it means a lot and we can't thank you enough!