There's a school of thought in business called the "Blue Ocean Strategy" which posits the following: instead of struggling to stake your claim in a crowded market space, create an uncontested market and thus render the competition irrelevant. This paradigm-shifting philosophy has succeeded in numerous industries, particularly for Apple with the iPod and Nintendo with the Wii. And while the Blue Ocean strategy has proven its efficacy in the world of commerce, could it also apply to art as well? I am more specifically referring to the exhibition of art, namely short films.
The film festival circuit, once the bastion of the hopes and dreams for burgeoning filmmakers, has quickly become an impregnable fortress of exclusion. Short films in particular have an incredibly challenging landscape to fight, survive, and succeed in as they must now compete with thousands and thousands of aspiring filmmakers and their labors of love, as well as star-studded shorts, big-name directors, and studio-backed features, all vying for the hearts and minds of hollywood players and audience members alike. What was once a daunting but potential-laden path has instead become a bit of a lost cause, with precious few shorts flourishing based solely on merit in an increasingly overcrowded marketplace.
So when I and three other filmmakers decided we were tired of waiting for someone to give us the opportunity to showcase our films, we chose to create such an opportunity for ourselves instead.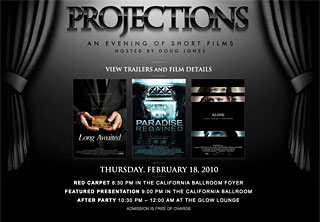 Last Thursday night at the Marina del Rey Marriott hotel we hosted "PROJECTIONS: An Evening of Short Films," MC'd by Doug Jones (of "Hellboy" and "Pan's Labyrinth" fame). It was a night planned, designed, and executed by filmmakers to showcase our work the way we'd always intended: no bloated playbill or sub-par viewing conditions, just 3 short films projected in high definition with properly EQ'd sound in a beautiful venue. The culmination of our efforts resulted in an unprecedented turnout with guests filling the 400-seat theater to capacity and overflowing into the aisles where over 100 more stood and watched for the entirety of the program. One stunned attendee remarked he had expected "a couple of fold out chairs in a basement," not the slick red carpet, ample 16 foot by 9 foot HD screen, posh after party, and most incredibly, the over-500-strong crowd.
While I'm not suggesting our inadvertent creation of a "blue ocean" is on par with the examples listed earlier, what does matter is that the evening was a success in the most significant way to us as filmmakers: our films received the treatment and the audience they deserved. And that's an opportunity that no one else could have or would have given us; we had to create it for ourselves.