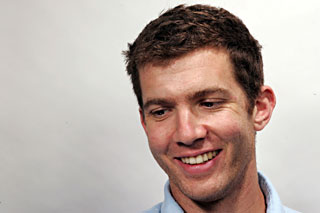 Alex O'Flinn grew up in the Washington DC area, and later moved to Ohio to attend Kenyon College. At Kenyon, Alex studied English literature and developed a heavy relationship with Dante and Homer, as well as deep love for country music. After graduating from Kenyon, Alex moved to Chicago where he worked for the Steppenwolf Theatre company, serving as Assistant Director on the play "Pacific." In 2005 Alex moved to Los Angeles to attend the MFA Film Directing program at UCLA, where he graduated in 2009.

While at UCLA, Alex has had the privilege to learn from amazing filmmaker's such as Gyula Gazdag, Marina Goldovskaya and Rory Kelly. Alex's documentary, "Movement", won Best Documentary at UCLA and screened at film festivals such as the AFI International Film Festival and St. Louis International Film Festival. Alex's film "Cost of Life", a documentary addressing the American Health Care system, was commissioned by the AARP as part of their Divided We Fail Campaign. Alex is also the recipient of the Motion Picture Association of America Award, The Hollywood Foreign Press Award, The Herman Kass Award, The Dorothy Arzner Award and The Mary Pickford Award.

Alex's thesis film "Shoot The Moon" was one of only 5 films selected to be a part of LACMA's prestigious 2011 Young Directors Night. Currently, Alex is in development for a feature film.