Synopsis
Hidden inside a freight shipping container headed to the United States, eight Colombian strangers wait for days in the dark to reach their destination. But a dangerous journey takes a frightening turn when one of the young women makes a shocking discovery. Trapped inside, she attempts to cling to her sanity as everyone around her falls apart.
13 minutes
Awards and Screenings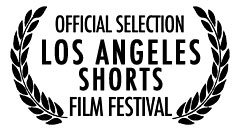 Winner of "Best Thriller" at the Philadephia FirstGlance Film Festival (PFFF).
Winner of "Most Intense Film" at the Seattle True Independent Film Festival (STIFF).
Official Selection at the New Jersey International Film Festival, Los Angeles Shorts Film Festival, DC Shorts Film Festival, Moondance Film Festival, Cambridge Film Festival, SoCal Independent Film Festival, and many more.